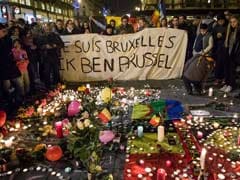 Belgium Today (Source: NDTV)
The scenes from Brusseles today were very moving. People throughout Belgium came together today for a moment of silence to remember the victims of the attacks. European Union Leaders were joined at EU Headquarters by the King and Queen of Belgium in a moment of silence. Our founder noted a touching scene shown on Sky News as a Belgian Police Officer was comforting a distraught Muslim Woman.
Based on reports we have reviewed as we went to press, 31 people have unfortunately died and over 200 people have been injured. Brussels Airport is closed today--although reporting we saw indicates that some of the cargo flights have left. We are also reviewing reports that apparently Belgian Intelligence had precise intelligence on when the strikes were going to occur--we are not in a position to assess this as the investigations are continuing and the Belgian Federal Prosecutor continues to provide updates as raids are continuing throughout Belgium.
As the World is remembering the victims and is in solidatiry with the people of Belgium, there are some hard questions before it. As we went to press here, we just received reports of Turkish President Edrogan noting that one of the attackers was detained and subsequently deported back in 2015. What is also staggering that Belgium has the largest per capita members of #Daesh. What is also disturbing is how some of these are second and third generation Belgians who apparently have never been fully intergrated into Belgian society. Some of the neighborhoods in Brusseles are apparently no go areas for Belgian Police. As some of the harsh realities are before us, the anti-Muslim rhetoric by the Republican Candidates were also notable. This is a sampling as reporteds by the Guardian of London yesterday:
The influence of Frank Gaffney was very evident in this comment. The Heritage Foundation's Daily Signal released this view on what must be done:
After Brussels attacks, U.S. must not repeat Europe's mistakes. Shutting down foreign fighter pipelines is important. So too are sensible and proactive counterterrorism investigations here that interdict potential terror threats before they start to look like Paris and Brussels and responsible immigration and border security policies, argues The Heritage Foundation's James Carafano.
Brussels attack shows lawful intelligence collection has never been more important. The United States cannot focus its attention solely on state actors. We face numerous challenges from established world powers, emerging states, and elusive terrorist organizations. As hotbeds of violence and aggression sprout up in many parts of the globe, we cannot neglect the importance of accurate and timely information in combating these threats, writes The Heritage Foundation's Cully Stimson.
Mr. Trump went one step further by noting that he would order water boarding and more. He laid it out in an interview on Bloomberg that was featured on NDTV within the past few hours. What was notable was the condemenation not just from across the US Political Spectrum, but Worldwide. The British Home Secretary's condemenation was just one example of it. It was also quite heartening to see a very reasoned debate on NDTV' in India. The World was reminded that India has sent "zero". It was also underscored that the bulk of the fighting and dying is being done by Muslims--Iranians, Iraqis and Syrians. It must be noted that India is dealing with its' own insurgency and the continued challenges in Kashmir as there are reports a former Pakistani Army Soldier may be planning attacks. If and when the clip is available on NDTV, we will feature it.
As NDTV's Barkha Dut underscored the obnoxious and boring views of the US Presidential Candidates, one reality was featured on Facebook that was quite telling:
We have also been assessing the state of the US Election Campaign as the Trump juggernaut continues and as the Democrats continue to battle it out. Jeb Bush came out in support of Ted Cruz today. It was also of note as we went to press that our team reviewed reports that Mr. Trump and Mr. Giulani said that Mr. Obama had to cut his trip short because it was Obama's Pearl Harbor. Mr. Obama has continued his trip as he concluded his very interesting Cuba Trip which we hope to feature in a future edition of Notations with a focus on the Americas:
:
CUBAMA!! (Source: The Economist)
We also wanted to remember the political prisoners in Iran as well--As we went to press, we saw reports of sit-ins by family members to protest their detention at the notorious Evin Prison which we will be assessing as well.
Truly Challenging times....