It has been a very tragic day in our World as reports have been circulating around the World on the Russian Jet that crashed in Egypt. There are reports out of the United Kingdom and the United States that A Bomb may have brought down the plane. It is a developing story as underscored by the
UK Prime Minister's Statement earlier today: "..

While the investigation is still ongoing we cannot say categorically why the Russian jet crashed. But as more information has come to light we have become concerned that the plane may well have been brought down by an explosive device....

"
The British have suspended all flights as the Security Chief has been fired:
The State Department spokesman underscored that this is still an open investigation--while underscoring the fact that US Personnel are to stay away from the Sinai in Egypt that is in the midst of a major insurgency. There are also reports of a video being captured by a videographer capturing the explosion in the air. It will truly be challenging on a multitude of fronts.
We have also been assessing the situation in the Maldives. The President of the Maldives has just anounced a state of emergency as Maldives has been in the midst of a major political challenge due to the detention of the opposition leader and former President Mohammad Nasheed. Nasheed was the first Democratically Elected President who spoke up for climate change before it became fashionable and held a Cabinet meeting under warter to underscore the predicament his country faced:
Maldvies Cabinet Meets Underwater (Literraly)--Click on Image For a Clip Courtesy of the BBC
As Maldives is sinking, it is tragic to see how it is in the midst of the challenge that it is as it is dealing with overpopulation, substance abuse and a high degree of unemployment in what is truly regarded as one of the most beautiful places on Earth: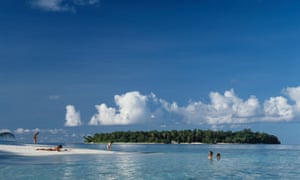 A Typical Day in the Maldives
What's next? Watch this space.....