The United Kingdom's "official opposition" in Parliament, the Labor Party, is having a leadership election and Jeremy Corbyn has counfounded all the sceptics and has a real shot at winning. He's from the so-called "left wing" of the party which prompted an intervention from the former Prime Minister, Tony Blair that it faces annihilation. This is as Mr. Corbyn has said taht Mr. Blair may be facing a trial over the Iraq War as Mr Blair has made quite a lucrative career in private life.
Our time found it quite onpointe as The Guardian , was ever so direct in explaninng why no one seems to be listening to Mr. Blair: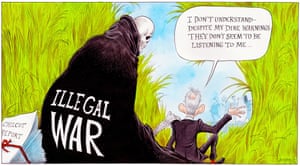 The Iraq War looms large as Labor tries a new path.
It is a developing story--but a fascinating one.