It has been a busy Week-End on the international scene and our team has been on the "Prowl" assessing some pressing issues before us: #Greece & #Iran. Our team has been monitoring the results of the Greek Referednum as indications are that the Greeks have heeded the call of the Greek Prime Minister to vote No. The Greek Prime Minister has noted that he will be on a plane if the results go the way that they are--and we will have an update on it early On Monday California Time here in #Outsiders on it.
The Greek Economy is weakeaning by the hour and Greek Banks and capital markets continue to be closed. They are supposed to be opening on Tuesday--but it is questionable. The Greek Government is asking for a new bailout that is subject to a mandate by European Parliaments--this is as the Greek Finance Minister just called what had happened to Greece terrorism. As we went to press, the no vote is at 64% and the margin continues to spread--a profound challenge for Germany and the IMF. The question is whether Greece will leave the Euro? Will Russia Help? What about China? This is a China has been opposed and this in the China Daily underscored the official position of China on it: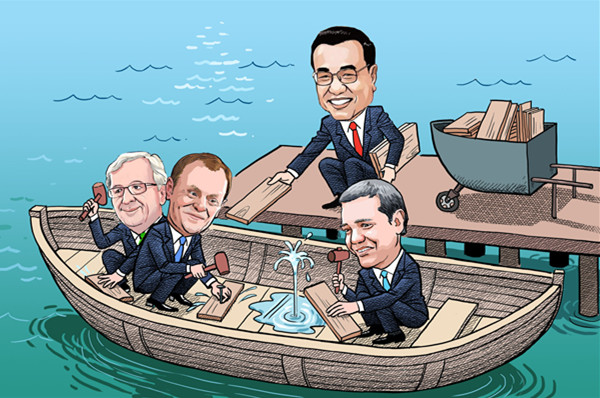 Beyond Greece, there is Iran. The Foreign Minister of Iran issued this that was shared widely on what we have deemed here @ #Outsiders the "Social Grid" over the Week-end:
He underscored Iran's commitment to deal with the menace of Daesh/IS especially as the war continues with no clear end in sight. We reviewed reports of new airstrikes by US-Led coalition in Iraq and as Assad forces supported by Hezbollah have launched fresh attacks on the outskirts of Damascus. In the meantime the campaign to derail the negotations continue in earnest. The Israeli Prime Minister came out earlier this morning underscoring how the deal is a sell-out. We also reviewed reports that a number of the International Atomic Energy Officials (as reported by the Islamic Republic News Agency) are being dispatched to Tehran to discuss the on-going military concerns. Despite some of the optimism, the same Islamic Republic News Agency also quoted John Kerry, the US Secretary of State, stating that they are prepared to walk away if there is no progress on a deal.
Challenging Times.....